Discover the versatility of UCS Two-stage Fixed-Speed Screw Compressors, designed to meet the diverse demands of industrial, manufacturing, and other applications with superior performance and reliability. These powerful compressors excel in challenging environments, such as offshore drilling rigs and remote pipeline settings, where they efficiently start engines and motors or facilitate the conveyance of drilling mud.
In addition, our two-stage fixed-speed screw compressors are perfect for driving turbines and generators in power plants, as well as supporting a wide range of processes in manufacturing facilities. Experience the difference of UCS compressors, which are engineered to deliver consistent performance, durability, and energy efficiency, even under the most demanding conditions.
Invest in UCS Two-stage Fixed-Speed Screw Compressors and elevate your operations with robust, reliable, and versatile compressed air solutions tailored to your unique needs.
Advantages and Characteristics:
·       Air inlet on-off adjustment and control, excellent and reliable performance;
·       Long-life bearing, Hitachi ingenious design of the high-performance rotor, high-quality two-stage compression air end assembly;
·       Permanent magnet speed variable motor, IE4 Class 1 energy efficiency motor, stable and energy-saving;
·       Advanced PLC control;
·       Heavy-duty nano-coated air filter, with filtration efficiency ten times higher than other filters;
·       High-quality lubricating oil/supercooling oil optional, 8000 hours service life, biodegradable, exhaust oil content less than 2ppm;
·       Multiple output protocols optional;
·       Small space occupation;
·       Low noise and vibration;
·       Environmentally friendly, healthy and stable design.
Air Filter Assembly

※ Large Capacity

※ Heavy Load Air Filter

※ Nano Film Coating

※ Pressure Difference Alarm

Intake Valve

※ On – Off

※ Noise Control

※ Big Caliber

Oil Separation System

※ CAE Finite Element Analysis

※ Triple Separation

※ Ultra-Low Fuel Consumption

※ Glass Fiber

The Cooling System

※ 1.2-1.5 Times Margin

※ Variable Frequency Fan Control

※ High Strength Material

※ High-Temperature Control

High-Quality Electronic Control System

※ Siemens Electrical Components

※ Plc Control

※ Vector Frequency Inverter

VSD Permanent Magnet Synchronous Motor

※ The Efficiency Level Is Equal To And Higher Than Level 1(Ie4)

※ The Motor Has Small Moment Of Inertia And Wide Operating Frequency

※ Independent Fan Cooling, Low Noise

※ Fully Closed Structure Design Can Meet In A Variety Of Bad Conditions Stability
Mechanical System
High-Efficiency Air End
·       Combining advanced rotor seal and fluid dynamics technology, also the efficient rotor line profile, which makes the rotors have high thermal insulation efficiency at all levels so that each air end to achieve better performance;
·       Using bearings with larger bearing capacity, and the mounting and preloading of the bearing precisely calculated so that the reliability is improved and the service life of the bearing extended;
·       The casing of the air end adopted the unique form-position tolerance evaluation system and high-precision numerical control machine (CNC) processing technology, strictly controls the internal clearance of the air end so that the air end has high efficiency while maintaining high reliability;
·       The air end has higher comprehensive adiabatic efficiency by adopting two-stage compression and inter-stage cooling, to realize the purpose of energy-saving;
·       Compared with a single-stage compressor, the two-stage compressor can save up to 10%-25%.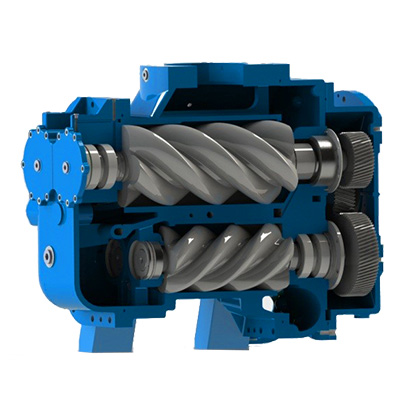 Drivetrain
·       The high-efficient driving motor directly connected to the two-stage compression air end without coupling, the transmission chain is maintenance-free, reducing energy consumption by 1%;
·       IP55 fully closed motor and air end housing integrated, effectively prevents metal particles, dust, moisture and other pollutants infiltrating into the motor and air end, makes the compressor performance more stable;
·       The motor bearing uses strengthened cylinder + ball bearing, delivering higher strength and reliability;
·       The transmission gear with processing precision of aviation level 6, multi-channel heat treatment and related processing technology ensure the superior surface hardness, ultra-high wear resistance and yield strength of all mechanical components;
·       Independent oil supply system and precise oil filtration effectively ensure the stability and reliability of the entire transmission under the long-time operation of full load.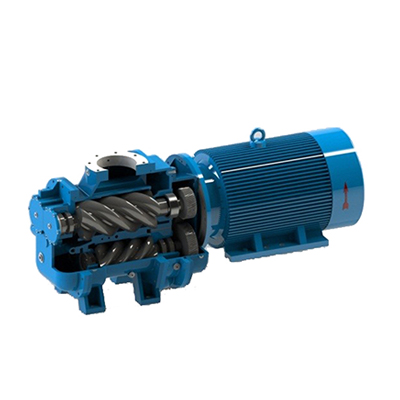 Intake and Filtration Systems
Prevent large dust particles, cotton and other sundries from entering the air compressor. Keep the compressor internal clean. Strictly observe the first pass of compressed air.
High-Efficiency Particulate Air (HEPA) Filtration:
Heavy-duty air filtration system powered by Donaldson USA, with filtration accuracy up to 99.9% for particles greater than 3μm. Suitable for all kinds of heavy dust environments.
Double Large Diameter Intake Assembly Design:
The pressure difference of all air paths is more petite than 0.2bar, greatly extending the service life of the air filtration system.
Optimized Design of Large Diameter Air Inlet Valve:
Low energy consumption in no-load operation, cast aluminium material, more stable performance.
The optimized mould design of the intake pipe:
High strength rubber sealing, firm and durable.
Oil Filter:
Donaldson oil filters, high grade of clean filtration, effectively protect the safe operation of the air end bearing, extend the service life of the air end.
Oil and Air Separation System:
Euro design efficient oil and air separation core, glass fibre filter material, long life, more efficient, no need for frequent replacement. The aggregate separation core and the oil return device work together, recover and recycle the lubricating oil effectively, avoiding oil over-spraying and ensuring the oil content of the compressor exhaust ≤2ppm.
Lubricating Oil:
UCS lubricating oil has good oxidation resistance, high-temperature resistance, high flash point, excellent thermal conductivity and many other characteristics.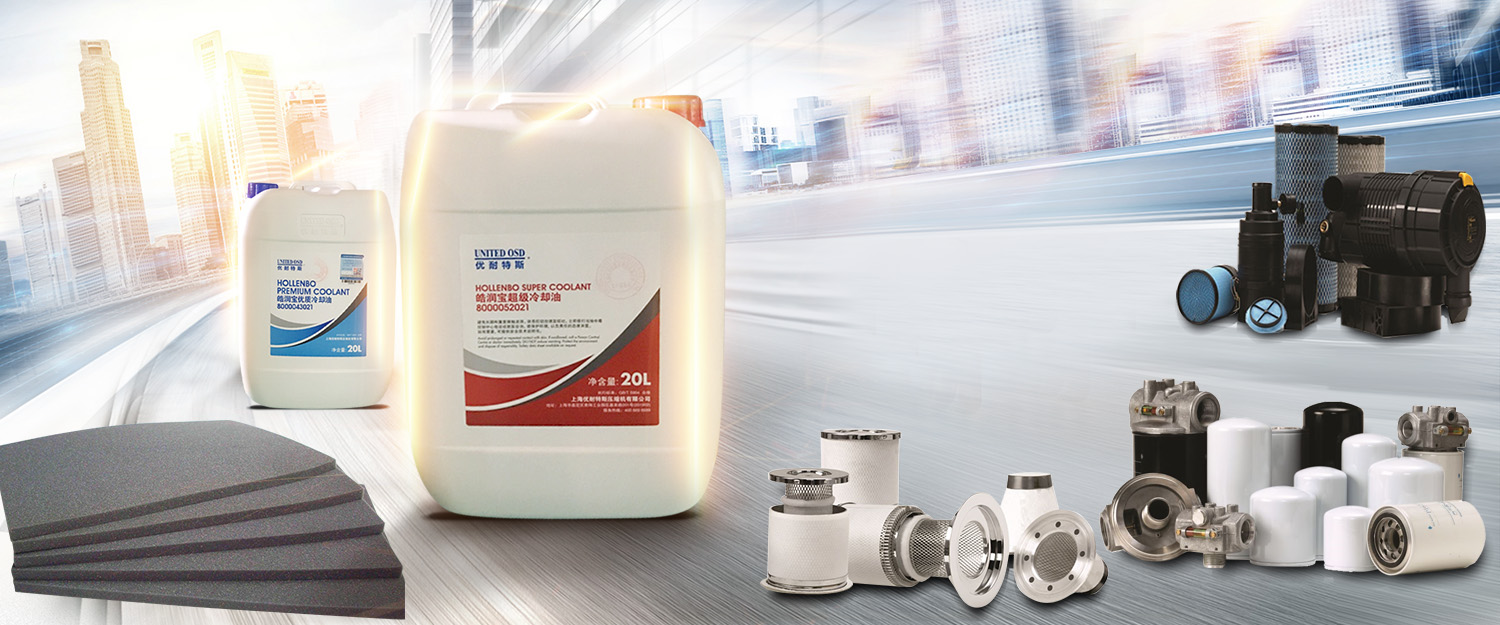 Cooling System
·       The design allowance of heat exchange is 20%-50%, which ensures the stable operation of the compressor in an extreme environment and minimize pressure drop.
·       Standard motor frequency conversion, accurate oil temperature control; further reduce air compressor energy consumption.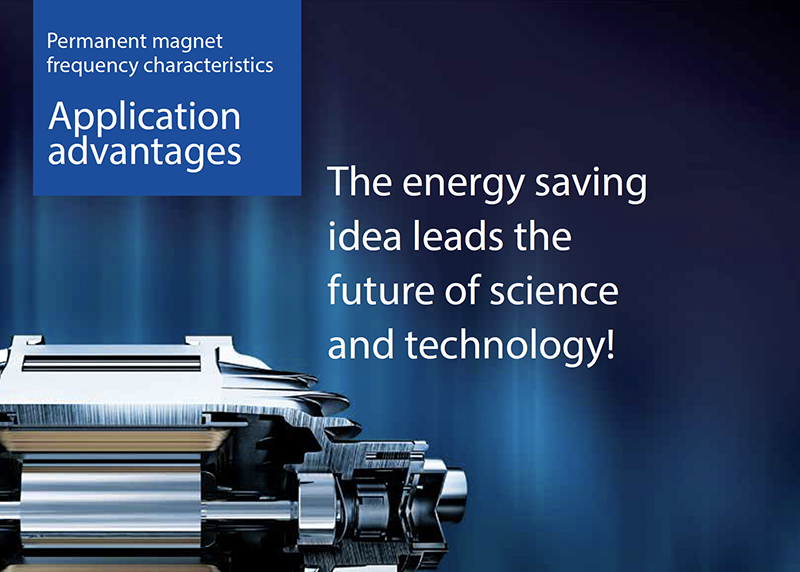 Features of Permanent Magnet Synchronous Motor (PMSM)
·       The motor efficiency is as high as 96%, and the power factor is 0.98, far exceeding the level 1 energy efficiency standard;
·       Permanent magnet with high coerce and high-temperature resistance ensures no demagnetization at a high temperature of 180°C;
·       Independent fan cooling to ensure the motor is safe running under extended hours and low frequency;
·       F grade insulation, 70K temperature rise design, suits the high-temperature working condition of air compressor;
·       Fully enclosed IP55 protection protects the clean internal environment of the motor and extends the life of permanent magnet and insulation;
·       Built-in temperature protection protects winding insulation and permanent magnet.
Permanent Magnet Synchronous Motor Vs Ordinary Asynchronous Motor
High efficiency:
The excitation system loss eliminated, improving efficiency.
Keep high-efficient at low-load state:
The energy efficiency of the PMSM is more than 9% higher than the asynchronous motor and remains unchanged with the reduced frequency.
Large starting torque:
The maximum starting torque of the PMSM may be up to 3 times higher than the rated torque, while the general asynchronous motor has 1.6 times only.
More stable control:
The PMSM response time is less than 50ms. The air production volume may be adjusted transiently within a broad range to stabilize air pressure precisely.